Melanie Preston, LPC, LMHC
Melanie is a Licensed Professional Counselor at The Marriage Point. She specializes in couples counseling, affair recovery, and communication skills.
Meet Melanie Preston, Licensed Professional Counselor
Licensed Professional Counselor in the state of Georgia.
Licensed Mental Health Counselor in the state of Indiana.
Member of the American Psychological Association
Member of the American Counseling Association
Member of the National Association of School Psychologists
Member of the National Alliance on Mental Health
Master of Science in Counseling Psychology
Master of Science in Educational Leadership
Couples Counseling Specialities: Affair Recovery, Perpetual
Conflict, Emotional Intimacy, Communication Skills, Premarital
Counseling, Divorce Discernment.
Individual Counseling Specialties: Women and Self-Esteem, Life
Work Balance, Life Transitions, Career Fulfillment.
Other Areas of Expertise: Family Therapy, Blended Families,
Extended Family Dynamics, Ministry and Clergy Leaders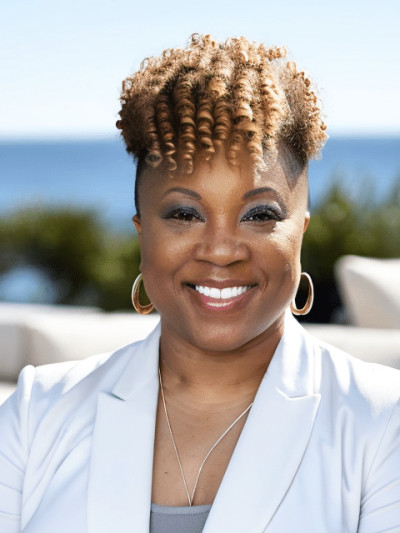 About Melanie Preston, LPC, LMHC

Melanie Preston is Licensed Professional Counselor in the states of Georgia and Indiana. She received her undergraduate degree from the University of Southern Mississippi, and her Master of Science in Counseling Psychology from William Carey University.
Melanie is known as "The Relationship Architect" and works with couples and individuals looking to redesign and restructure their relationships. She also works with organizations looking to provide more inclusivity within the workplace. Mel believes the best version of self is developed through the intentional prioritizing of both physical and emotional wellness. Additionally, Mel is a licensed minister and believes that spirituality and psychotherapy can coexist without being mutually exclusive.
Having spent the first 10 years of her career working in secondary school systems in high-poverty areas, Mel has always had a passion for the family unit. Much of her work continues to revolve around creating healthy relationships within the family structure, as well as the relationships outside the home that contribute to overall total wellness.
Mel has been featured as a public speaker and workshop facilitator for both local and national organizations, in addition to post-secondary institutions. Churches often seek her for speaking and teaching events due to her ability to fuse spirituality and psychology. Additionally, she's been featured on television, radio, and other social media platforms to share her knowledge and expertise in relationships and effective communication.
Mel's latest accomplishment has been the release of the "Self-Love & Affirmation Journal: A Therapist-Guided Adventure". The journal is aimed to walk women and girls through the process of learning and applying self-love.
Clinical Focus
Mel is academically trained as a culturally competent and trauma-informed mental health clinician. She holds additional training in integrative behavioral health, which involves the collaboration of physicians and mental health therapists for the holistic care of clients. Mel holds an M.S. in counseling psychology from William Carey University and an M.S. in educational leadership from Western Governors University.
Melanie's theoretical orientation is a fusion of Cognitive Behavioral Therapy and Dialectical Behavioral Therapy. She is also a Certified Prepare-Enrich Facilitator and Trainer. Melanie is well-versed in topics related to culture, trauma, and the integration of spirituality and psychology. She is passionate about supporting couples in finding their way back to one another and witnessing their growth as they learn to connect in authentic and intimate ways.
Fee & Insurance Information
Melanie does not directly participate with any insurance network. However, she is able to provide you with all the necessary paperwork to be submitted to your insurance company for reimbursement.
Are you an existing client? Follow this link to schedule your next appointment directly through Melanie's scheduling service.
Are you a new client? Follow the link below to request an appointment, or contact Melanie directly at (404) 795-2102.
Follow this link to learn about our Fees for Services.
"The only constant in life is change."